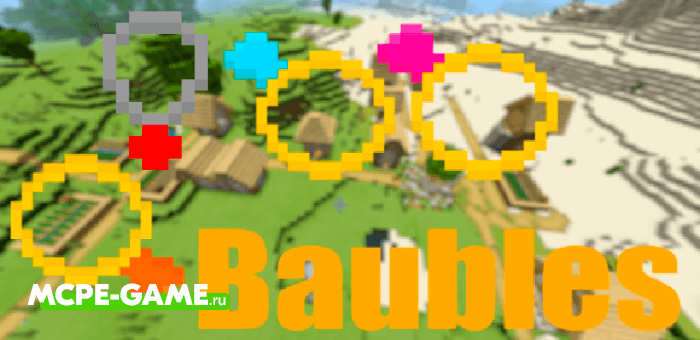 This addon will add 10 rings, 7 amulets and 5 brooches to the game, allowing you to get various bonuses and enhancers.
To interact with any item from Baubles Addon, you need to pick it up and apply it to yourself, with a long press on your smartphone screen. Keep in mind that you can only use 1 item of each class, 1 ring, 1 amulet and so on.
Rings
You will need 3 gold bars, 4 blocks of gold and 1 diamond to craft the ring. The recipe for the crafting is shown below. Next, you need to combine the ring with the appropriate potion.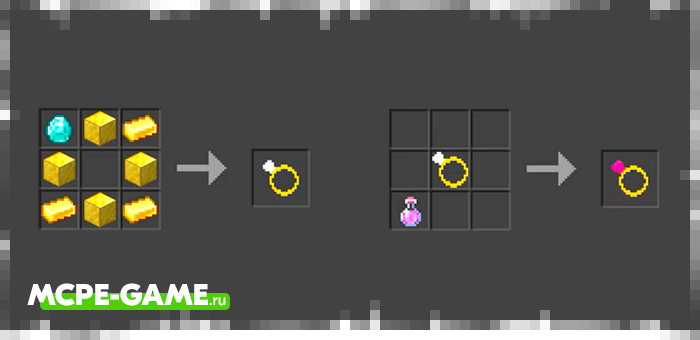 Amulets
Amulets cannot be crafted, they can be obtained from mobs, after destroying them with a random chance of drop.
| | | |
| --- | --- | --- |
| Name | Mob | Bonus |
| Amulet of Enchantment | Enderman | Teleports items to you |
| Amulet of Nature | Enderman, Zymogoras | Increases the speed of running on grass |
| Plant Amulet | Endermen, Zymogor | Slows down the mobs closest to you |
| Amulet of Darkness | Skeleton | Charms the mobs near you |
| Amulet of Love | Skeleton, Zombie | Kills all the already dead mobs near you |
| Amulet of Fortitude | Zombie | Gives saturation and resistance level 2 effects |
| Blood Charm | Zombie | Gives the effect of slowing and strength level 2 |
Brooches
| | |
| --- | --- |
| Name | Bonus |
| Power Brooch | Gives various powerful effects and enhancers |
| Angel Brooch | Allows you to fly |
| Death Brooch | Kills all creatures near you that have not yet died |
| Creature Brooch | Creates a random mob near you every 30 seconds |
| Power Potions Brooch | Imposes a random effect on potions every 30 seconds |
Video overview
Updated at
13.09.2021
Game versions
1.16
Functionality tested on Minecraft
1.16.100
Genre
Items, Mods, Rings
Platform
Android, iOS, Windows
Files
Baubles.mcaddon
71.04KB
Leave comment