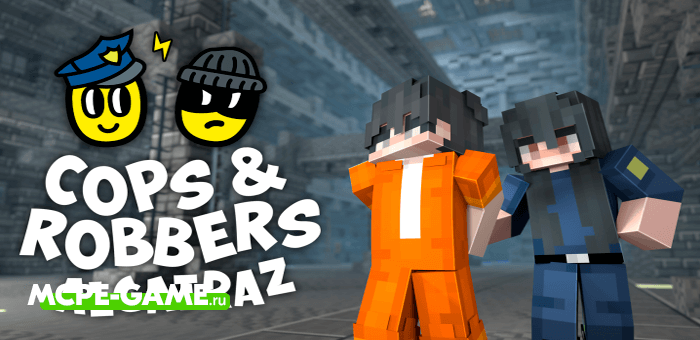 Cops and Robbers – Minecraft map "Cops and Criminals", where you have to play the role of a police officer or a bandit.
Cops and Robbers map was created specifically for Minecraft Bedrock Edition and is a huge prison where the most dangerous and cunning criminals are held. This map is designed for simultaneous play by multiple players by role. The more participants you manage to collect, the better.
Map "Cops and Criminals" belongs to the category "Prison Break", where players must show maximum of their imagination, wit and cunning. The task of the criminals is to make a jailbreak. The task of the police is not to allow even one prisoner to get out of the protected area.
The map provides all the necessary facilities for proper role-playing – prison cells, guard rooms, canteen, sports field, various corridors and secret passages. There is even a merchant ready to provide the prisoners with useful items for the escape for a fee.
Video map demo
Updated at
28.04.2021
Game versions
1.16
Functionality tested on Minecraft
1.16.201 1.16.200
Genre
Maps, Prison Escape
Platform
Android, iOS, Windows
Files
Cops-and-Robbers.mctemplate
6.18MB
Leave comment