Map: SkyBlock With Adventure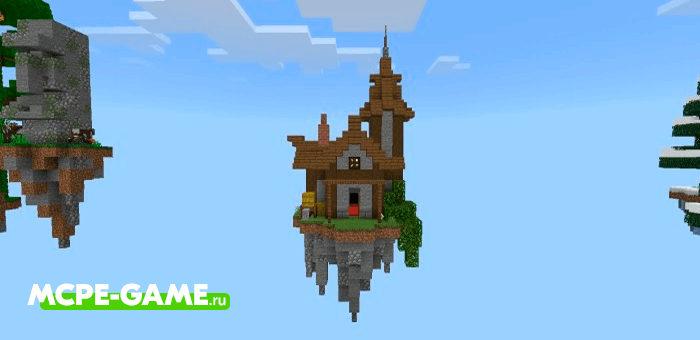 SkyBlock Adventure is a new map in which you will go on a little adventure, traveling through the islands soaring in the sky!
There are a huge number of skyblock maps created for Minecraft, but they all just change the islands and the starting set. The SkyBlock Adventure map combines the adventure mode along with the limited island survival format that many people love.
Let's start with the fact that there are also flying islands that are at a huge altitude. There are 11 in total and each one represents a specific biome or structure.
At the same time the islands themselves are incredibly cool! For example, the island with marine biome is the bottle with liquid. And on the jungle islands you will find the enormous stone totem.
And even if you are able to make the bridges between all 11 islands, you won't be able to get all available in the game resources, necessary to craft the most valuable items. This is where the adventure begins! After all, now you have to get to the trading island and exchange resources with traders who are constantly changing their assortment and terms of sale.
Updated at
28.04.2021
Game versions
1.16
Functionality tested on Minecraft
1.16.220 1.16.201
Genre
Maps, SkyBlock
Platform
Android, iOS, Windows
Files
SkyBlock_Adventure.mcworld
7.86MB
Leave comment