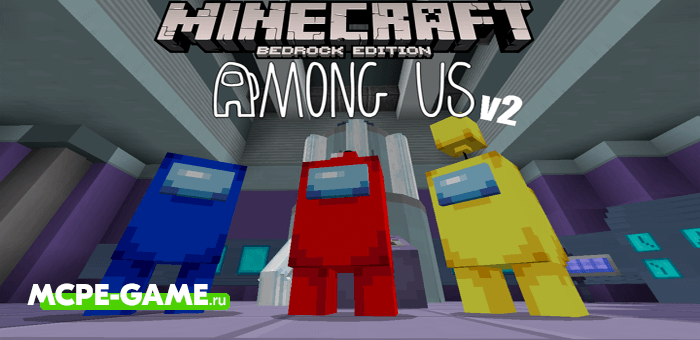 Polus is the largest map from the game Among Us, which is an exploration base on the planet of the same name.
This Among Us map for Minecraft is fully adapted for the game! Simply assemble a team of 4 to 10 players and proceed to complete quests and figure out the traitor among the crew.
Many quests on the Pole map by Among As have been adapted specifically for Minecraft Bedrock Edition. For example, the diversion at the oxygen station consists of only 1 part, and players are given as much as 60 seconds to fix the malfunction.
The Minecraft map Polus of Among Us consists of an in-game lobby where you can gather before the game starts and the map itself. In doing so, you will find all the rooms from the original game – cafeteria, warehouse, reactor, armory, medical bay, and so on at the station.
By the way, this map has a lot of interactive elements. For example, you will be able to view the surveillance cameras, and to open some doors you will need key-cards. Just like in the original game!
The map is completely ready to play, without the need to install additional mods. Just run your server, invite your friends, choose your character's color and play Among Us directly in Minecraft!
Video demonstration map and game guide
Updated at
27.04.2021
Game versions
1.16
Functionality tested on Minecraft
1.16.100
Genre
Among Us, Maps
Platform
Android, iOS, Windows
Files
Polus_Among_Us.mcworld
13.68MB
Leave comment