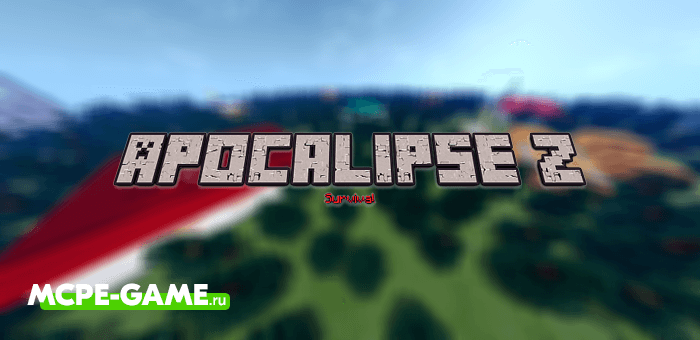 Apocalipse Z – A unique zombie apocalypse map on Minecraft PE, where you have to survive at all costs!
Apocalipse Z map is designed specifically to play survival mode in a complete apocalypse and zombie invasion. Build your own survival camp, collect supplies, team up with other players, rescue survivors and of course, slay the walking dead!
The map represents a vast area with 3 large cities, dense forests, roads, secret buildings and facilities and many other locations.
For an even more interesting game, we recommend additionally picking up and installing apocalypse mods that will help diversify your game on the map Apocalipse Z in Minecraft Bedrock Edition.
Wadput
This small town will be a great starting point. In the abandoned houses, you can get useful survival items and weapons. The main points of interest here are a destroyed train station and a bank. In the latter, you won't be able to fight with other players, but zombies won't be able to break in either.
There is a lot of loot in this city – food, uniforms, weapons, medicine, everything can be found in Semech. That's why it's worth being prepared for encounters with infected and other survivors.
Holy Light
The largest city in Minecraft map with the zombie apocalypse Apocalipse Z. There is a particularly high concentration of infected in the streets and buildings here. Due to the fact that many survivors and bandits are trying to get into the Holy Light, there is a constant fighting here, which is sometimes simply unwarranted.
Video demonstration of the map
Updated at
28.04.2021
Game versions
1.16
Genre
Cities, Maps, Survival, Zombie Apocalypse
Platform
Android, iOS, Windows
Files
Apocalipse-Z-MAP.mcworld
3.68MB
Leave comment