FANCY DECORATION Resource Pack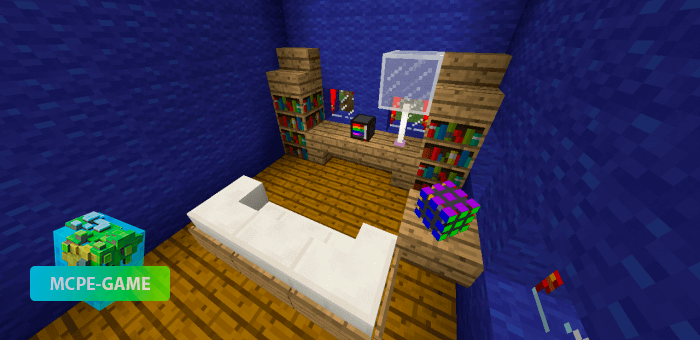 If you want to build a modern mansion and fill it with various modern interior items and technology, it is not necessary to download mods for decoration. For example, you can use texturpacks that change rarely used blocks with modern items.
Fancy Decoration Texture Pack performs just such a function and allows you to get a variety of decorations without installing mods. The main feature of this texture pack is that only those blocks that are rarely used will be changed, e.g. a shulker box, and the textures of the main blocks will not be changed.
What kind of decorations can I get?
| | |
| --- | --- |
| Was | Became |
| Skull | Clock |
| Reptile head | Aquarium |
| Zombie head | French Fries |
| Enchantment table | Coffee Table |
| TNT | Fake Lucky Block |
| Head | Rubik's Cube |
| Yellow rug | Cooktop |
| Blue Glass | Curtain glass |
| Shulker | TV (animated) |
| Blue shalker | TV stand with shelves |
| Light blue halter drawer | Washbasin |
| Grey halter drawer | TV stand |
| Blue shalker drawer | Freezer |
| Lime shaker drawer | Refrigerator |
| Purple sacker drawer | Toilet |
| Orange sacker drawer | Shower |
| Pink shower cabin | Bottom of the shower |
| Purple sacker drawer | Mailbox |
| Silver mailbox | Coaster for mailbox |
| Yellow mailbox | Microwave |
| White sacker drawer | Kitchen cabinet with drawers |
| Shalker drawer | Kitchen cabinet |
| Frames with different things | Various pictures |
Updated at
13.09.2021
Game versions
1.16
Genre
16x16, Decorative, Mods, Texture Packs
Platform
Android, iOS, Windows
Files
FANCY-DECORATIONS.mcpack
80.23KB
Leave comment