Download Minecraft 1.16.0.60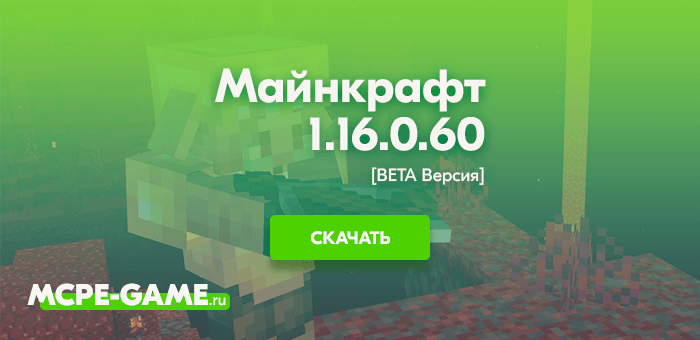 Download Minecraft 1.16.0.60 to be among the first to see all the changes that had time to appear in the game!
What's new in MCPE 1.16.0.60
Update Minecraft 1.16.0.60 can be safely called a technical update, as the main focus was on fixing bugs. Maybe the developers from Mojang are preparing some surprise for us with new content, or maybe they just decided to make the game perfect.
Fixed errors
The new version of Minecraft Bedrock 1.16.0.60 has fixed 13 bugs found during last week's testing. Again, these are all technical issues that aren't of much interest to the average player.
In-game optimization
Functionality of the /kill command was restored
Fixed a bug that caused players' nickname to "blink"
Repaired running of the store and ability to buy in-game currency
Fixed flickering of terrain drawing on a long distance
Fixed a bug that caused the game to crash and freeze when using third-party textures
Gameplay changes
In-game chat has been adjusted to the standard font
Warning! Before you upgrade Minecraft PE 1.16.0.60 please make sure to back up your worlds!
| | |
| --- | --- |
| Game version | 1.16.0.60 |
| OS | Android |
| Publisher | Microsoft |
| Developer | Mojang |
| The license | Free |
| Launch Date | 17.05.2020 |
| Xbox Live | Supported by |
Leave comment